Christmas time, mistletoe and wine! Well, that's what they sing and it is only around the corner.
Preparing for Christmas as a blind person is a little different these days. There is less worrying and more feeling. I wanted to share with you a few things that have made my Christmas easier and more joyful since losing my sight three years ago.
This time of year was the hardest thing to adjust to since losing my sight, but everything I have learnt through my rehabilitation and the network I have built, ripples into all areas of life. I have found that it is not about stopping Christmas or not being a part of it because I can't see it; it is about making it my kind of Christmas.
I have always loved baking at Christmas especially making gingerbread. I have done this with my son since he could hold a rolling pin. This is one thing I was not prepared to lose. How did I adapt you ask? Well, my gadgets saved the day. I bought a set of talking weighing scales, talking microwave, talking thermometer, tactile jugs along with many more items and the rest is just years of practice. It is like muscle memory; you kind of just do it! I also use audio cookbooks through my Kindle or just off the internet using my screen reader. Dylan and I recently baked Umbrella biscuits for Esme's Umbrella CBS Awareness Day. We loved it and it was practice for our gingerbread biscuits that we share out every Christmas time.
I remember as a child my mum dressed the house like Santa's party room. We had those decorations you put on the ceiling; the ones like chains that sparkle. I could never see the detail on them, but I could definitely pick up on the colours and sparkle. Now, even though I can't see the colours and sparkle I can certainly touch and that is what I do. We have very tactile decorations, and I still won't let the boys touch my tree! Dylan has always had his own tree to decorate, we turn it into a competition.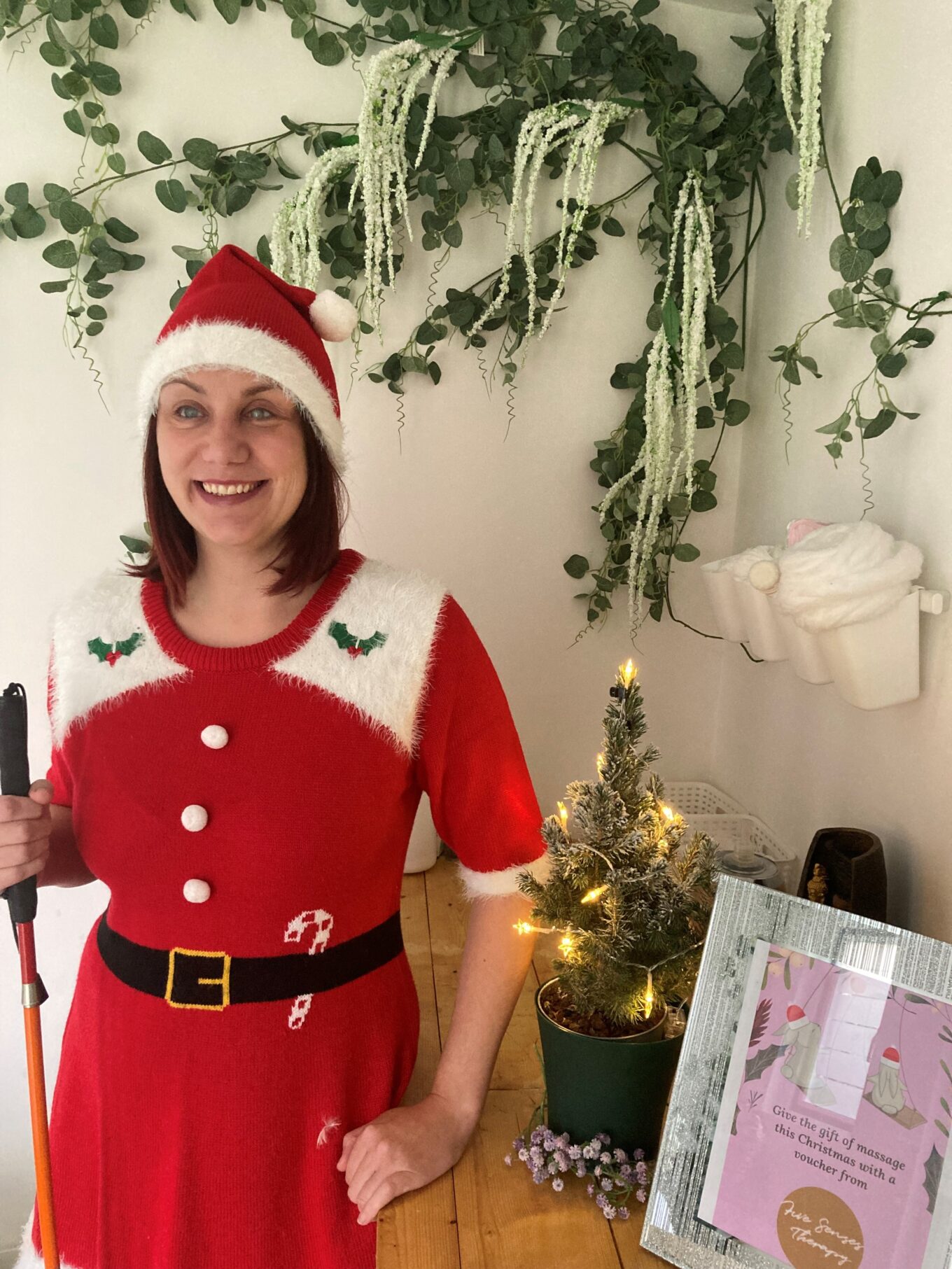 I have always loved art and crafts and enjoyed making our own cards a few times so anything tactile has always been a winner. I came across a lady that makes tactile cards and there are companies that sell braille cards. For people who still have some vision there are so many big, bold and bright decorations out there too and if you can't find any, you can always create your own.
Christmas games are a big tradition in our family too. With these we just search for ones that are accessible for me. Some that I came across are tactile draughts and Connect Four from the RNIB. We also play games on the Alexa such as guess that song and trivia questions. These can be answered through Alexa so no need for writing or reading; the perfect option! There were a few funny ones that Santa brought Dylan too that enabled me to play along with him, without it being an adjusted game. We've played Gooey Looey, Don't Step In It and Buckaroo. Yes, Gooey Looey is what you think; you pull bogies out of a head; the last one to pull the last bogey pops his brains out! Obviously, this is all plastic with no real person as the subject, but perhaps not the game to play with the in-laws on Christmas Day for the first time. It was definitely fun, and Dylan enjoyed it as I was playing his games, not him playing my accessible ones.
There is so much now to help make your Christmas as special as it always has been. I also think that taking the visual element away from the season as it can be so busy, helps to feel more immersed in it. If you have any questions about the things I have mentioned or want to read more about my journey you can visit my blog Blind But Sound.
Merry Christmas everyone and a very Happy New Year.
Thank you for reading,
Nina x
If, like Nina, you are on your own sight loss journey and would benefit from a telephone befriending relationship, please get in touch.
Call 0800 587 2252 today
For anyone wishing to find out more information about eye conditions, the RNIB website has lots of useful information.